Student Life
Each year Ma'ayanot students produce three full-length productions that are open to the community: a drama, a musical, and Heartbeats: A Night of Song & Dance. Participation in theatrical performances allows students to showcase their creative talents, both as actors and as non-actors who are involved in the technical elements of production, such as sound, costume design, lighting, scenery, and stage management.
HEARTBEATS
Heartbeats is a student-initiated, student-directed and student-performed "night of song, dance and connection." Each year Heartbeats organizers choose charities to which the proceeds of that year's performances will be donated. They raised a record $17,500 for tzedakah in 2018.
PAST BENEFICIARIES:
Tackle Kids Cancer
Avigdor's Helping Hand
IDF Widows & Orphans Organization
The Judah Marans Memorial Fund
Nechamah
Save a Child's Heart
Lone Soldier Center
Chabad's Children of Chernobyl
Bat Melech
Sharsheret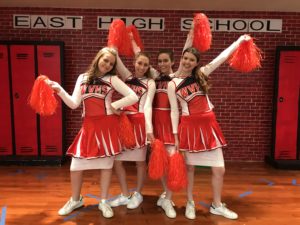 MUSICAL PERFORMANCES
Our annual musical performance combines songs, spoken dialogue, acting, and dance. The story and emotional content of the musical – humor, pathos, love, anger – are communicated through words, music, movement and technical aspects of the performance as an integrated whole. Mrs. Joyce Heller and Mrs. Beth Selter work tirelessly with a superb cast of both actors and non-actors to present excellent theater.
PAST PERFORMANCES :
High School Musical
You're a Good Man, Charlie Brown
The Sound of Music
Little Shop of Horrors
Fiddler on the Roof
Joseph and the Technicolor Dreamcoat
Beauty and the Beast
The Music Man
Bye Bye Birdie
My Fair Lady
DRAMA PRODUCTIONS
Ma'ayanot presents a drama performance every spring under the supervision of Mr. Matt Okin of Black Box Studios. The drama is a creative outlet for theatrically minded students to participate in all aspects of play production, including performance, direction, design, technical support and publicity. Students learn how to interpret key scenes in a story, develop improvisation skills and techniques, and stage plays, all while having a lot of fun. Students also participate in directing, choreography, set production, lighting and every aspect of putting together a professional performance.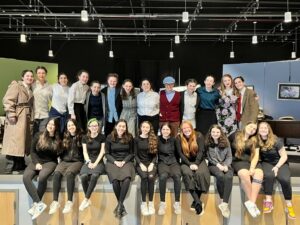 PAST PERFORMANCES:
Golden Boy
One Flew Over the Cuckoos Nest
Detective Story
Grapes of Wrath
A Few Good Men
The Miracle Worker