Academics
Tanakh
The primary goal of the Tanakh program is to teach the skills and love of learning that are necessary for a lifetime of Torah study. All Tanakh classes extensively utilize havruta study to develop textual and analytical skills that equip our graduates to study Tanakh seriously and independently. Judaic Studies electives are offered throughout high school for motivated students who desire additional Torah learning above and beyond graduation requirements.
All students are required to take four years of Tanakh; the first two-thirds of each year is devoted to Humash, and the last third to Navi.  A Tanakh Seminar elective is available in the 12th Grade. Tanakh classes are tracked throughout all four years. Electives are open to all interested students.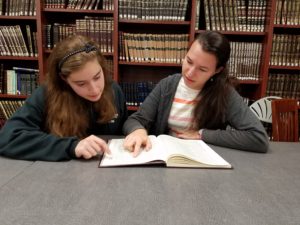 Curriculum
9th
Bereishit; Melakhim
10th
Shemot; Yeshayahu
11th
Bamidbar; Yirmiyahu
12th
Devarim; Parshat Bereishit; Shivat Tzion
Elective offerings have included:
The Life of Avraham Avinu
Biblical Leadership
Ketuvim Seminar
Talmud
In addition to developing textual skills that enable students to lovingly unlock any page of Gemara on their own, the Talmud department emphasizes analytical skill-building through in-depth exploration of concepts in the Gemara and Rishonim. Advanced seminars are offered as electives for motivated students who desire additional Talmud learning above and beyond graduation requirements.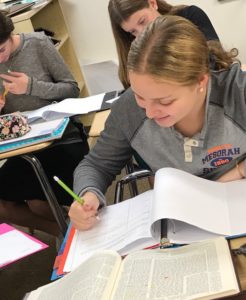 All students are required to take four years of Talmud. Talmud classes are tracked throughout all four years. All students can choose to take the advanced Talmud Seminar in 12th grade, as well as other Talmud electives.
Curriculum
9th
Masekhet Berakhot
10th
Masekhet Makkot
11th
Masekhet Sanhedrin
12th
Masekhet Kiddushin
Elective offerings include:
Gemara Bekiut
Gemara Seminar
Halakha
The Halakha department aims to help students become well-informed regarding the practical laws that govern the daily lives of observant Jews. We also strive to impart an understanding of how Halakha develops from its source in the Torah to its practice in our daily lives.
Halakha is integrated into the Talmud course in 9th grade and is a separate, required course in grades 10-12.
Curriculum
9th
Hilkhot Tefillah
10th
Hilkhot Shabbat
11th
Hilkhot Kashrut
12th
Women in Jewish Law
Jewish History
Our primary goal in teaching Jewish History is to help students develop a strong Jewish identity and an appreciation of the rich texture of their Jewish heritage. A secondary goal is to contextualize and supplement the textual studies of other Judaic classes as a way of helping students understand the development of Jewish ideas across generations.
Students are offered Jewish History electives and will be required to take Modern Jewish History and Zionism in the senior year.
Jewish Philosophy
The study of Jewish philosophy ensures that students are exposed to fundamental questions (e.g., faith and reason, free will, and theodicy), key thinkers and important texts that are integral to our philosophical tradition.
Jewish Philosophy is a required course in 11th grade.
Hebrew Language and Literature
In addition to helping students gain fluency in Hebrew, we strive to instill within our students a love of the Hebrew language, love of the land of Israel and the State of Israel, and a sense of personal connection to Israeli culture.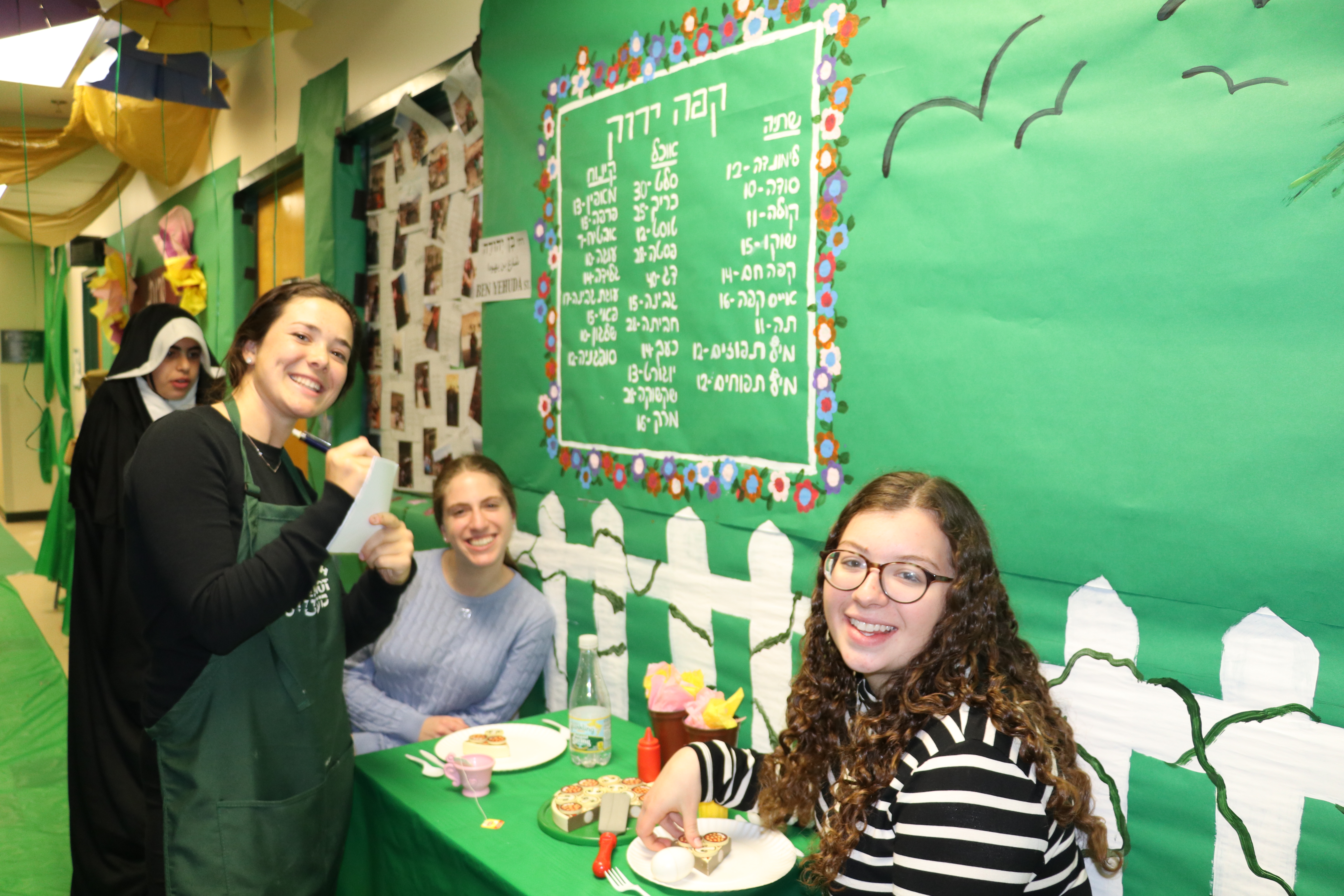 All students are required to take three years of Hebrew and have the option of taking an advanced course in the senior year. All mandatory Hebrew classes in grades 9-11 are tracked. Senior electives are not tracked. Hebrew classes are tracked independently of other disciplines.
Curriculum
9th
Hebrew I: Revival of Language and Land
10th
Hebrew II: Vision and Establishment
11th
Hebrew III: Interpersonal Relationships
12th
Electives: Contemporary Hebew (Ulpan); Behina Yerushalmit
Ma'ayanot Judaic Studies Enrichment Program
The Ma'ayanot Judaic Studies Enrichment Program seeks to further challenge a small group of students in each grade and give them the opportunity for academic growth commensurate with their abilities. It targets students for whom the rigor of the honors classroom still leaves room for more. Each student chooses a b'iyun learning project of her choice to dive into bechavruta during school time, and a bekiut project to learn during her free time. Based on the topic of their project, the students are paired with mentors in the community who are expert in their field.