Ma'ayanot Wins 1st Place at CIJE Innovation Day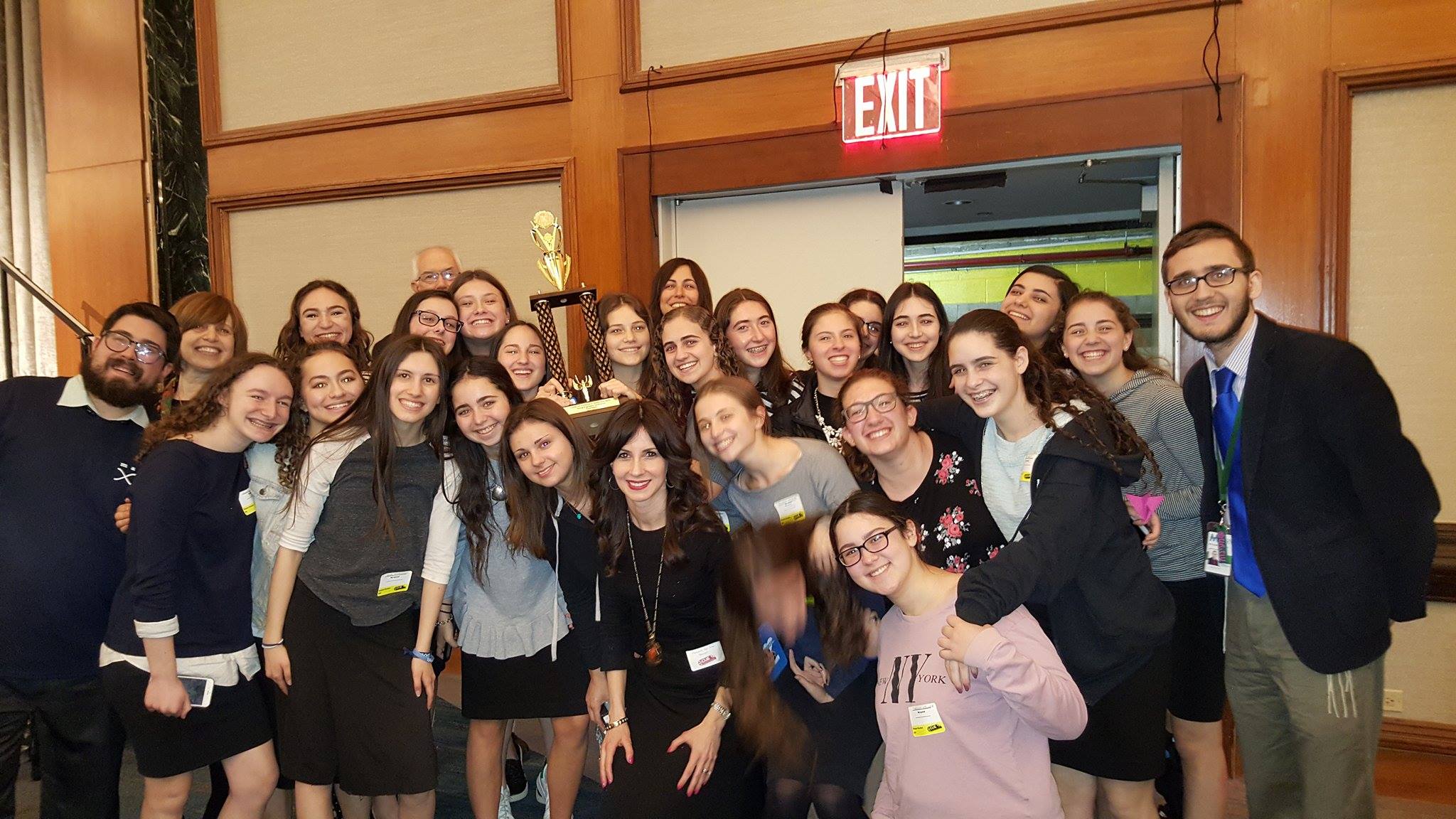 Sunday, May 7, 2017, was an electrifying day at the 5th Annual CIJE (Center for Initiatives in Jewish Education) Innovation Day, the largest Jewish day school robotics and STEM event, which took place at the New York Hilton in Manhattan. More than 1,200 students from 40 day schools in the tri-state area displayed their capstone projects and competed in the High School Engineering Conference competition. Ma'ayanot Yeshiva High School won 1st place for schools that submitted 10 or more projects.
"I am unbelievably proud of my students who created inventive, creative, and engaging projects and won this well-deserved award," comments Mr. Aryeh Tiefenbrunn, 10th grade STEAM teacher.
Ma'ayanot Freshmen, whose projects were coordinated by 9th grade STEAM teacher Mrs. Reyce Krause, shined as they displayed their wearable clothing that they "hacked" with programmable LED lights. The group displayed a "slouch detector," a sweatshirt programmed to buzz when the wearer slouches. Students also took pride in sharing their designed LED-laden garments that  light up in sequence when individuals go out at night.
Teams of sophomores custom-tailored their assistive technology project to Parkinson's patients that they were paired with from the Jewish Home at Rockleigh. One team invented an automatic toothpaste dispenser. Another team designed the "Parkinson's Speech Therapy bracelet," an LED bracelet that lights up in response to voice, encouraging Parkinson's patients to increase the volume of their voice.
Mrs. Gila Stein, Co-director of  Ma'ayanot's STEAM  program reflected, "We are grateful to the CIJE program and particularly Mrs. Judy Lebovits, Vice President of CIJE, and Adam Jerozolim, the CIJE-Tech specialist who mentored the Ma'ayanot students. They provided our students with the opportunity to display their technological ingenuity and apply their well-honed engineering and coding skills to solve real world problems."
Ma'ayanot also had a strong presence at the IDEA network's Maker Xpo, a concurrent event at the CIJE Innovation Day where schools exhibited interactive booths celebrating STEM and creativity. Ma'ayanot students set out a wide array of materials for participants to create robotic "scribble machines." Members of the school's guidance team, Dr. Rayzel Yaish and Dr. Oshra Cohen, helped share the meta-cognitive messages of these machines. "Teaching the parents and children at our booth about the power of collaboration and wonder, as they created their 'bots brought home the message that there is infinite potential when we cross pollinate with different areas of expertise, pool resources, and allow for creative thought," said Dr. Yaish.
Sophomore Cayla Muschel helped Sinai students who attend school at Ma'ayanot facilitate their own booth. Ma'ayanot also debuted the XYZ ArtBot, a computerized drawing machine, programmed and built by students under the mentorship of Dr. Duncan Bell and Mrs. Orly Nadler. "The students did a great job explaining their projects and showing how much they understand about engineering," said Dr. Bell. The students recreated the essential framework that underlies all fabrication tools such as 3D printers, CNC routers and laser cutters.
"Dr. Bell has shared industry-grade skills in coding and mechanics that will continue to guide our students as they adapt the ArtBot into an even bigger and more sophisticated public display," added Mrs. Orly Nadler, Co-Director of STEAM with Mrs. Gila Stein.
"It was a really great experience and I loved displaying my project while seeing the other projects that everyone worked so hard on," said Freshman Amira Isenberg. "I learned that creativity knows no bounds. I hope to work more on the ArtBot and improve on it in the future.There are so many ways to give it new functions, and I'm enjoying the realm of endless possibilities that this project and STEAM in general has showed me."
Reflecting on the Ma'ayanot's success, Mrs. Nadler said, "This year, we launched our core STEAM curriculum with the 9th grade class, inaugurated the Dr. Rosalyn Yalow Makerspace, and are currently developing an array of sophisticated offerings for next year. We are proud of how far the Ma'ayanot STEAM program has gone and are eager to continue to raise the bar for women's STEAM education."