Campaigns
IDEAL:  
Investing in Dreams to Excite Advanced Learning
Six Ma'ayanot sophomores worked in new our Maker Space to create devices that can make the lives of Parkinson's patients just a bit easier. A recent graduate sent an email to her Ma'ayanot Talmud teacher explaining that, because Ma'ayanoters are so advanced, her Israel school needed to create a special Talmud track just for them. Another teacher received an email from the graduate of a different high school who felt compelled to write of her observation that her Ma'ayanot friends are uniformly more confident than graduates of other high schools, and she commented that "it is obvious that what goes on in your school is extraordinary." Without a doubt, the key to successes such as these lies in our ability to tap into the individual passions of each and every student at Ma'ayanot.
Below you will find a balanced combination of innovative and enriching classroom experiences, diverse co-curricular opportunities and wide-ranging extra-curricular programming that allow us to do just that.  In addition to helping us bring our bold educational vision to fruition, sponsorship of one or more of these programs provides a beautiful way for donors to memorialize or honor their loved ones. These programs can be sponsored for one year with a one-time donation that will be publicly acknowledged throughout the year, or through an endowment gift that will allow you to both name and support your chosen program today and into the future.
I.  MA'AYANOT'S AWARD WINNING STEAM PROGRAM
Name this Program with an endowed gift of $1,000,000
A two-year STEAM curriculum in Engineering, Robotics and Coding for 9th & 10th grades
Exciting STEAM electives in 10th-12th grades
This past year Ma'ayanot launched a new STEAM program designed to ensure that ALL Ma'ayanot students graduate with a comprehensive understanding of computer science and engineering skills and competencies. Other schools offer STEAM classes, but they are typically taken by self-selecting students who are motivated to choose STEAM electives or, in some cases, only by students who pass an entrance exam. Our inclusive approach is unique in that it is predicated on the understanding that these concepts and skills are quickly becoming basic 21st-century literacies that must be developed in all students.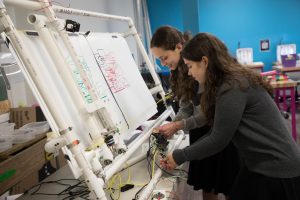 We are proud to have been awarded a matching grant that helped us build our state-of-the-art maker space, and a second grant that will allow a class of 10th grade students to work with seniors at the Jewish Home at Rockleigh to identify physical challenges and develop devices to alleviate those challenges.
For more information on additional STEAM support opportunities, please contact Mrs. Pam Ennis ext. 265 or ennisp@maayanot.org.
II.  THE MA'AYANOT CENTER FOR INDIVIDUALIZED LEARNING
Name this Center with an endowed gift of $1,000,000
It is widely understood that passion drives optimal learning. The Ma'ayanot Center for Individualized Learning is dedicated to offering a broad range of learning experiences, including innovative and enriching classroom experiences and a wide array of co-curricular opportunities, to ensure that each and every Ma'ayanot student finds her passion and develops to her fullest potential religiously, academically and socially.
CENTER FOR TORAH ENRICHMENT - Name this Center with an endowed gift of $500,000
Lamdaniyot

Cost Per Year: $1,500

Endowed Cost: $30,000

Under the guidance of an Enrichment Mentor, advanced students meet twice weekly to engage in Judaic research, both individually and in small groups. Unique within a high school setting, students are guided in choosing topics, potentially thematic or interdisciplinary in nature, for in-depth study, which will culminate in a public presentation.

Moot Beit Din - on our wish list!

Cost Per Year: $1,500

Endowed Cost: $30,000

Students are provided with a contemporary halakhic issue and asked to provide a source-based approach to resolving the issue. Moot Beit Din students engage in intensive study of halakhic sources, prepare written decisions, and present and defend their opinions at an academic competition before a Moot Beit Din. Funding for this program will provide for a faculty coach who will help students conduct advanced halakhic research and present their conclusions in the most persuasive manner possible.

Tanakh Garden

RESERVED

GrowTorah, a cutting-edge interdisciplinary curriculum through which students plant and maintain a Tanakh garden, promotes exploration at the intersection of science, halakha, and environmentalism. Funding is utilized to participate in the GrowTorah program and to purchase garden materials.

Ma'ayanei Torah

Cost Per Year: $1,500

Endowed Cost: $30,000

Before each holiday, Ma'ayanot students, under the direction of a faculty advisor, publish a journal of Torah articles that is distributed to synagogues throughout the tri-state area. As a venue through which Ma'ayanot students and faculty share beautiful and original Torah thoughts to an expansive audience, Ma'ayanei Torah offers a meaningful naming opportunity for a family wishing to honor or memorialize a loved one.

Mishmar

DEDICATED IN MEMORY OF BRUCE RITHOLTZ Z"L

Cost Per Year: $10,000

Endowed Cost: $200,000

A beloved tradition at Ma'ayanot, students are invited to participate in Thursday Night Mishmar. Through a combination of traditional learning and experiential programming, Mishmar provides an additional venue through which students are motivated to utilize discretionary time for Torah lishmah activities. Funding for Mishmar will allow for the procurement of exciting guest presenters and enticing food options that are sure to encourage robust attendance at these important school events.

Ma'ayanot Scholars Program

RESERVED

The Ma'ayanot Scholars Program is aimed at encouraging students to increase the amount of time they spend engaged in extracurricular Torah Study, learning lishmah. Ma'ayanot Scholars select personal learning goals for the year, and with the help of faculty mentors work toward completing those goals by an end-of-year siyum. Scholars also benefit from bi-monthly shiurim by guest Torah scholars and one off-campus trip per year. Funding allows for increased access to faculty mentors, more frequent guest lecturers, and an additional off-campus trip per year.
CENTER FOR ACADEMIC ENRICHMENT- Name this Center with an endowed gift of $500,000
Academic Teams

Cost Per Year: $10,000

Endowed Cost: $200,000

Academic teams allow students to develop specialized skills in fields of interest to them. Ma'ayanot participates in all Yeshiva league competitions, including Chess, College Bowl, Debate, Hidon HaTanakh, History Bowl, Math League, Mock Trial, Model Congress, Model United Nations, Poetry Slam, Science Olympiad, Stock Market Challenge, and Torah Bowl. Enhanced funding for academic teams will enable the hiring of professional coaches who specialize in the areas listed above.

Interesting fact -Ma'ayanot is the only all-girls school to compete in the Yeshiva Chess League!

Sambatyon Literary Journal

Cost Per Year: $5,000

Endowment Cost: $100,000

Ma'ayanot's award-winning annual literary journal affords an opportunity for creative students to publish works of fine art, including photography, artwork, poetry and creative writing essays. As a venue through which Ma'ayanot students share beautiful and original artistic creations, Sambatyon offers a meaningful naming opportunity for a family wishing to honor or memorialize a loved one.

Enrichment in STEAM and Humanities

Cost Per Year: $20,000

Endowment Cost: $400,000

Enrichment programming is a significant goal for the future, as the offering of such services will allow advanced students to soar intellectually to their highest potential. Funding of this endeavor will allow for the hiring of enrichment specialists in math, science, engineering, coding and the humanities.

Interdisciplinary Programming

Cost Per Year: $10,000

Endowment Cost: $200,000

Toward goals of encouraging critical thinking, engagement with the world community, and integration of Judaic and General studies, Ma'ayanot runs numerous interdisciplinary programs each year, including a school-wide Book Day and grade-wide interdisciplinary days during which students of a particular grade engage in interdisciplinary programming on an issue of their choosing. Increased funding will allow our Interdisciplinary Coordinators to both increase the number of programs per year and enhance these programs with more highly acclaimed speakers and enticing multi-cultural food offerings that make programs of this sort truly exciting and immersive for the students.

Speakers Bureau

Cost Per Year: $25,000

Endowment Cost: $500,000

Guest speakers are an important enhancement to our Judaic and secular curricula. Specifically, guest speakers help students understand the real-world relevance of what they are learning and serve as intellectual and religious role models. Funding for a Speakers Bureau will allow for more regular procurement of highly acclaimed and accomplished speakers who will be of interest to students and parents.
THE LEARNING CENTER - Name this Center with an endowed gift of $500,000
Learning Center Benefactor

Special opportunity! Help to expand the Learning Center impact to best service and support our growing student body by become a Learning Center Benefactor with a donation of $5,000 a year for 5 years.

Faculty Skill Building Classes

Cost Per Year: $10,000

Endowment Cost: $200,000

Our unique faculty skill building classes provide individualized and small group support that enables students with learning challenges to achieve the greatest intellectual growth and academic success.

Peer Tutoring Program

Cost Per Year: $10,000

Endowment Cost: $200,000

Our unique peer tutoring tutoring program provides individualized support that enables students with learning challenges to achieve the greatest intellectual growth and academic success.
III.  THE MA'AYANOT CENTER FOR STUDENT LIFE
Name this Center with an endowed gift of $1,000,000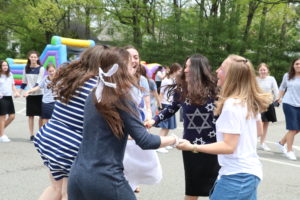 Through a broad array of committees, clubs, athletic teams, chessed programming, and annual school spirit events, the Ma'ayanot Center for Student Life is designed to tap into skills, talents and passions beyond the academic realm of the school. Student activities are also designed to foster robust school pride and spirit, promote leadership skills, and nurture a strong sense of community responsibility, both within and beyond the Jewish community.
Named Chessed Program

Cost Per Year: $25,000

Endowment Cost: $500,000

In addition to the eight service projects every Ma'ayanot student is required to complete each year, Ma'ayanot is proud to have built a robust chessed program that includes two annual grade-wide chessed trips, humanitarian missions (planned in partnership with NCSY) to communities devastated by natural disasters, and extra-curricular chessed opportunities such as Midnight Run and Friendship Circle. A named chessed program will allow for numerous enhancements to our existing chessed program, including: a curriculum coordinator who will focus on formally integrating chessed within the educational curriculum; kiruv missions and Yachad Shabbatonim; additional humanitarian missions and other chessed opportunities tailored to the individual interests of the students.

Named Athletics Program

Cost Per Year: $25,000

Endowment Cost: $500,000

Ma'ayanot sports a full range of athletic teams that compete with other schools in the Metropolitan Yeshiva High School League, including V and JV Basketball, Soccer and Volleyball, as well as Softball, Tennis, Swimming, Hockey and Track. A named athletic program will enable travel to national competitions and more frequent upgrades of sporting equipment. In addition, and perhaps most significantly, more funding will allow for spectator bussing to and from away-games and subsidized pricing for Ma'ayanot sports paraphernalia, enhancements that have the potential to significantly increase both school spirit and school pride.

Leadership Training Fellowship

Ma'ayanot currently provides significant on-the-job leadership training for Student Government leaders and Committee Chairs. A fully funded Leadership Training Fellowship will allow for the development of a training curriculum that will provide this self-selected cohort of students an enhanced understanding of principles and practices of leadership and training exercises aimed at developing the skills and confidence needed to emerge as effective community or professional leaders. Particulars of this groundbreaking program include: three full-day leadership training seminars and a weekend retreat to provide dedicated time for participation in experiential activities that impart specific leadership skills and capacities; frequent guest lectures; and a mentorship program through which each student is paired with a female community or business leader for individual mentoring.

Annual Productions, including Heartbeats, Musical & Drama

Cost Per Year: $2500 (each)

Endowment Cost: $500,000 (each)

Ma'ayanot hosts three major Performing Arts events each year: a musical production, a drama production, and Heartbeats, a night of song and dance.

School Spirit Program

Cost Per Year: $25,000

Endowment Cost: $500,000

Ma'ayanot runs numerous informal educational programs each year. In addition to their significant educational value, these programs serve to inspire spiritual growth, foster leadership skills, enhance student-teacher relationships, encourage grade and inter-grade bonding, and promote school spirit and pride. Additional funding will allow for enhancements of the following core programming:
Annual Shabbaton,
Annual Color War
Annual Mishmover
Annual Chanukah Banquet
Annual Purim Chagiga

For more information on sponsoring or naming one of these programs, contact Pam Ennis at ext. 265 or ennisp@maayanot.org.
For more information on any of the above, or to discuss alternative sponsorship opportunities that may be more meaningful to you, please contact Mrs. Pam Ennis ext. 265 or ennisp@maayanot.org.
There is nothing I love more than helping families find meaningful opportunities to convey their values to their children, and even to future generations, by providing support to programs or events about which they are passionate!