Capital Campaign
We invite you to join us as we embark on an expansion enterprise that will both accommodate our rapidly growing student body and allow us to creatively use physical space to promote the skills and integrated approach to learning that will maximally prepare Ma'ayanot students for the 21st-century careers that await them.
The Vision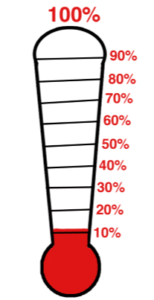 The Plan
The Fundraising Goal
Dedication Menu
Our Donors
Pledge Form
Brochure
THE VISION
Necessitated in part by our rapidly growing student body, we are excited to be moving forward with expansion plans, and we are eager to utilize this opportunity to create a physical complex that allows us to maximize cutting-edge pedagogies that are emerging as a result of changes in the ways students obtain and utilize knowledge in a digital age. Specifically, our vision for this expansion project include:
An Expanded and Beautified Beit Knesset, designed with high ceilings, maximal natural light, excellent acoustics and a large stage, will foster inspired tefila and be conducive to communal learning, gathering and celebration
An Enlarged, Centrally Located Beit Midrash will serve as a focal point of Torah study and will significantly enhance our existing culture of chavruta study.
A Library/Media Center, equipped with a full-time Research Specialist, cutting-edge hardware and software, a full complement of books and online databases, will create an atmosphere conducive to collaboration and interdisciplinary exploration.
An Expanded Learning Center, designed with a large work area surrounded by smaller alcoves, will be ideal for offering multiple, simultaneously -run individual and/or small-group skill-building classes. In addition, placement of our expanded Learning Center in close proximity to our library/media hub will afford easy access to abundant educational technology tools aimed at reinforcing skill acquisition.
Dedicated Space for Fine Arts Classes and Programming, including art, music, performance, dance and culinary arts, will allow for the cultivation of creative expression that intrinsically fosters reflection, self-criticism, experimentation, persistence, and even playfulness — important skills in and of themselves, but crucial for maximal success in a competitive and sophisticated workforce.
Additional Science & STEAM Lab Spaces are needed to support our award-winning STEAM program. AS our school grows, so does our need for additional science and STEAM lab spaces that support experimentation and project-based lessons.
Fully implemented, this capital project will add almost 30,000 square ft to our current footprint, an increase of approximately 50%. In addition to the educational benefits enumerated above, this expansion will also provide:
Eight additional classrooms
Enlarged lobby
Enhanced security booth
Kitchen facility
Four gathering spaces, each large enough to comfortably accommodate an entire grade, allowing for programming that relies upon simultaneous full-grade gatherings.
Multipurpose room/cafeteria large enough to comfortably accommodate the entire student body.
Additional student lounge facilities with a 2nd-floor outdoor patio.
An expandable communal space, outfitted with a stage
and designed with excellent acoustics, large enough to accommodate over 700 people.
THE PLAN
First Floor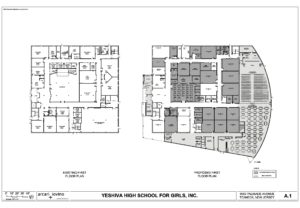 Second Floor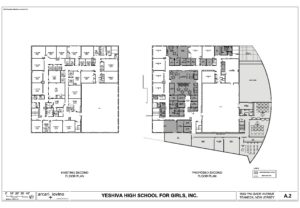 $5M FUNDRAISING GOAL
This expansion project is projected to cost ten million dollars, half of which will be raised through this campaign; the remainder will be financed toward a goal of ensuring that future beneficiaries of this construction project have the opportunity to support it as well.
DEDICATION MENU
Campus $1,500,000
Building $1,000,000
Beit Knesset $800,000                                     Mezuzah: Beit Knesset $75,000
Beit Midrash $750,000                                     Mezuzah: Beit Midrash $75,000
STEAM Maker Space I $700,000                  Sambatyon Publication $75,000
STEAM Maker Space II DEDICATED          Mezuzah: Front Entrance $50,000
Learning Center $700,000                             Mezuzah: Side Entrance $50,000
Nurse; $700,000                                                Beit Midrash Bookcases $50,000
Gym DEDICATED                                               Neir Tamid $50,000
Chemistry Lab (2) $500,000                         Scoreboard $50,000
Biology Lab $500,000                                      Grow Torah Garden DEDICATED
Principal's Office $500,000                           Security Desk $50,000
Judaic Studies Program DEDICATED       Writing Center $50,000
General Studies Program $360,000           Learning Center Testing Room (2) $50,000
Technology Program $360,000                    Learning Center Director's Office $50,000
Matmidot Enrichment $360,000                 Library/Media Study Room (2) $50,000
Humanities Enrichment Prg.  $360,000   Library/Media Staff Room (2) $50,000
Learning Center Program $360,000           First Floor Faculty Lounge $36,000
Associate Principal's Office $250,000         Second Floor Faculty Lounge $36,000
Dean of Students Office $250,000               Torah Guidance Office (3) $36,000
Asst. Principal Student Life $250,000        Israel Guidance Office (2) $36,000
Speakers Bureau $250,000                            Athletic Director's Office $36,000
Front Lobby $200,000                                      College Guidance Office (2) $36,000
Guidance Program $200,000                        STEAM Office $36,000
Israel Guidance Program $200,000            Tech Office $36,000
Athletics Program $200,000                         Humanities Office $36,000
MPR $200,000                                                    Judaic Studies Office $36,000
Endowed Dept Chair: Talmud $150,000   Ninth Grade Dean's Office $36,000
Endowed Dept Chair: Tanakh $150,000   Guidance Office (4) $36,000
Endowed Dept Chair: English $150,000   Kitchenette $36,000
Endowed Dept Chair: Math $150,000         Nurse's Office $36,000
Endowed Dept Chair: SS $150,000              Track Office $25,000
Endowed Dept Chair: STEAM $150,000    Publication Office $25,000
Endowed Dept Chair: Science $150,000     Classroom (21) $25,000
Endowed Dept Chair: Health/Phys. Ed. $150,000 Locker Room $25,000
Endowed Dept Chair: Art $150,000             Librarian's Desk $20,000
Art Room $125,000                                            Trophy Case: Athletic $20,000
Yoga/Dance Room $125,000                          Trophy Case: Academic $20,000
Culinary Arts Room $125,000                       Netilat Yadayim Station $20,000
Music Room $125,000                                      Mezuzah: Principal $18,000
Sinai Wing $125,000                                          Mezuzah: Associate Principal $18,000
Talilei Orot Publication $125,000                Mezuzah: Dean of Students $18,000
Student Activities Suite $100,000                 Mezuzah: Asst Princ. Student Life $18,000
Second Floor Outdoor Patio $100,000        Mezuzah: Library/Media Center $15,000
Chessed Program $100,000                           Mezuzah: Learning Center $15,000
Annual Community Yom Iyun $100,000    Mezuzah: Guidance (4) $15,000
Annual Day of Big Ideas $100,000                  Mezuzah: Israel Guidance (2) $15,000
Dramatic Arts Program $100,000                  Mezuzah: Torah Guidance $15,000
Ma'ayanei Torah Publication $100,000        Mezuzah: Music Room $10,000
Second Floor Student Lounge $75,000          Mezuzah: Art Room $10,000
Stage $75,000                                                          Mezuzah: Yoga/Dance Room $10,000
Mezuzah: Kitchenette $10,000
Mezuzah: Classrooms $5,000
OUR DONORS
Dream It. Grasp It. Build. It
The Vision

THE VISION
Necessitated in part by our rapidly growing student body, we are excited to be moving forward with expansion plans, and we are eager to utilize this opportunity to create a physical complex that allows us to maximize cutting-edge pedagogies that are emerging as a result of changes in the ways students obtain and utilize knowledge in a digital age. Specifically, our vision for this expansion project include:

An Expanded and Beautified Beit Knesset, designed with high ceilings, maximal natural light, excellent acoustics and a large stage, will foster inspired tefila and be conducive to communal learning, gathering and celebration

An Enlarged, Centrally Located Beit Midrash will serve as a focal point of Torah study and will significantly enhance our existing culture of chavruta study.

A Library/Media Center, equipped with a full-time Research Specialist, cutting-edge hardware and software, a full complement of books and online databases, will create an atmosphere conducive to collaboration and interdisciplinary exploration.

An Expanded Learning Center, designed with a large work area surrounded by smaller alcoves, will be ideal for offering multiple, simultaneously -run individual and/or small-group skill-building classes. In addition, placement of our expanded Learning Center in close proximity to our library/media hub will afford easy access to abundant educational technology tools aimed at reinforcing skill acquisition.

Dedicated Space for Fine Arts Classes and Programming, including art, music, performance, dance and culinary arts, will allow for the cultivation of creative expression that intrinsically fosters reflection, self-criticism, experimentation, persistence, and even playfulness -- important skills in and of themselves, but crucial for maximal success in a competitive and sophisticated workforce.

Additional Science & STEAM Lab Spaces are needed to support our award-winning STEAM program. AS our school grows, so does our need for additional science and STEAM lab spaces that support experimentation and project-based lessons.

Fully implemented, this capital project will add almost 30,000 square ft to our current footprint, an increase of approximately 50%. In addition to the educational benefits enumerated above, this expansion will also provide:

Eight additional classrooms
Enlarged lobby
Enhanced security booth
Kitchen facility
Four gathering spaces, each large enough to comfortably accommodate an entire grade, allowing for programming that relies upon simultaneous full-grade gatherings.
Multipurpose room/cafeteria large enough to comfortably accommodate the entire student body.
Additional student lounge facilities with a 2nd-floor outdoor patio.
An expandable communal space, outfitted with a stage
and designed with excellent acoustics, large enough to accommodate over 700 people.

The menu

Campus $1,500,000
Building $1,000,000
Beit Knesset $800,000
Beit Midrash $750,000
STEAM Maker Space I $700,000
STEAM Maker Space II DEDICATED
Learning Center $700,000
Nurse $700,000
Gym DEDICATED
Chemistry Lab (2) $500,000
Biology Lab $500,000
Principal's Office $500,000
Judaic Studies Program DEDICATED
General Studies Program $360,000
Technology Program $360,000
Matmidot Enrichment Program $360,000
Humanities Enrichment Program $360,000
Learning Center Program $360,000
Associate Principal's Office $250,000
Dean of Students Office $250,000
Assistant Principal for Student Life $250,000
Speakers Bureau $250,000
Front Lobby $200,000
Guidance Program $200,000
Israel Guidance Program $200,000
Athletics Program $200,000
MPR $200,000
Endowed Department Chair: Talmud $150,000
Endowed Department Chair: Tanakh $150,000
Endowed Department Chair: English $150,000
Endowed Department Chair: Math $150,000
Endowed Department Chair: Social Studies $150,000
Endowed Department Chair: STEAM $150,000
Endowed Department Chair: Science $150,000
Endowed Department Chair: Health & Phys. Ed. $150,000
Endowed Department Chair: Art $150,000
Art Room $125,000
Yoga/Dance Room $125,000
Culinary Arts Room $125,000
Music Room $125,000
Sinai Wing $125,000
Talilei Orot Publication $125,000
Student Activities Suite $100,000
Second Floor Outdoor Patio $100,000
Chessed Program $100,000
Annual Community Yom Iyun $100,000
Annual Day of Big Ideas $100,000
Dramatic Arts Program $100,000
Ma'ayanei Torah Holiday Publication $100,000
Second Floor Student Lounge $75,000
Stage $75,000
Campus

1,500,000

building

1,000,000